Transplant champion wins gold, Mosman Daily, November 1999
13 November 1999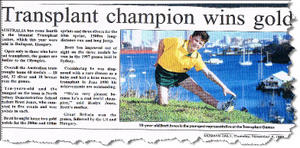 Transplant Champion Wins Gold
Australia has come fourth in the biennial Transplant Games, which this year were held in Budapest, Hungary.
Open only to those who have had transplants, the games are similar to the Olympics.
Overall the Australian team brought home 68 medals – 18 gold, 32 silver and 18 bronze from the games.
Ten years old and the youngest on the team is North Sydney Demonstration School student, Brett Jones, who competed in 5 events and won medals in each.
Brett brought home two gold medals for the 200m and 400m sprints and three silvers for the 60m sprint, 1500m long-distance run and long jump.
Brett has improved out of sight on the three medals he won in the 1997 games held in Sydney.
Considering he was diagnosed with a rare disease as a baby and had a bone marrow transplant in June 1990 his achievements are outstanding.
"We're very please because he's a real world champion," said Roslyn Jones, Brett's mother.
Great Britain won the games, followed by the US and Hungary.
Mosman Daily, November 4 1999
---
Minor Miracle, December 1999
18 December 1999

Miracle little footballer scores is first 10 points, Dec 1999
17 December 1999

Transplant champion wins gold, Mosman Daily, November 1999
13 November 1999

Not Many Kids Like Brett, Mosman Daily, Nov 1999
7 November 1999

Giving sick kids a chance, Feb 1998
4 February 1998

It's our Father of the Year, 1998
6 January 1998

From hell and back, North Shore Times, Nov 1997
4 November 1997

Fundraiser recognised, Nov 1997
3 November 1997

Bargain buy a bonus, Jan 1994
1 January 1994

Brett's battle inspires $100,000 crusade, Dec 1993
2 December 1993

Concert tribute to a fighter, Mosman Daily 1993
31 December 1992

Steve's ready to sizzle, Mosman Daily
19 December 2007

Big night out set to sizzle, NorthSide Courier
16 December 2007

Help Steve snag record, North Shore Times
6 December 2006

Kids Like Brett Need Your Support
3 June 2004

A leap for charity, Mosman Daily
6 August 2003

Charity's new hero, Dec 2002
24 December 2002

Community Hero, Dec 2002
23 December 2002