From hell and back, North Shore Times, Nov 1997
4 November 1997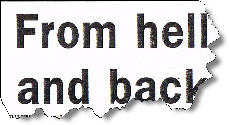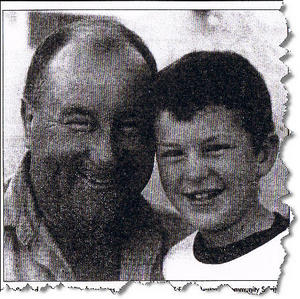 Spirited smiles ... Stephen Jones, winner of the 1997 EnergyAustralia Community Spirit.
North Shore Times, Friday, November 1997
From Hell and Back
When Brett Jones of North Sydney was born without an immune system because of an extremely rare condition, his family's life changed forever.
In the years since, through many ups and downs which would test the strongest individual, the spirit of his parents, Stephen and Roslyn has remained.

The first four years of Brett's life were filled with constant pain because he was unlucky enough to be the 20th person in the world diagnosed with Nezelof Syndrome. His hardships were shared to some extent with the rest of his family, including older brother, Scott, and sister, Rebecca, who had to live in an environment of complete isolation.

"It was four years in hell," Stephen now says.

Brett, now 8 ˝, is a healthy young boy because of a bone marrow transplant made possible through Roslyn offering to be her son's donor. The operation was a success, but the next three years were still extremely difficult as Brett made slow progress after his disadvantaged start to life.

Stephen Jones' experience motivated him to begin a fundraising campaign designed to alleviate the suffering of other children in similar predicaments.

He has been achieving remarkable success since he began his Kids Like Brett campaign shortly after the transplant, with donations totalling a staggering $200,000.

His efforts were recognised last week when he won one of Energy Australi'as five Community Spirit Awards. In the same week, Royal North Shore Hospital aslo acknowledged the appeal by adding Brett's name to its honour board.

In his experience with Brett, he observed kids having to share medical equipment which spread germs, causing patients additional suffering. Stephen decided on a different approach to fundraising, directly purchasing expensive medical equipment fo rreduced rates and donating it to children's hospitals.
North Shore Times, 7 November 1997
---
Minor Miracle, December 1999
18 December 1999

Miracle little footballer scores is first 10 points, Dec 1999
17 December 1999

Transplant champion wins gold, Mosman Daily, November 1999
13 November 1999

Not Many Kids Like Brett, Mosman Daily, Nov 1999
7 November 1999

Giving sick kids a chance, Feb 1998
4 February 1998

It's our Father of the Year, 1998
6 January 1998

From hell and back, North Shore Times, Nov 1997
4 November 1997

Fundraiser recognised, Nov 1997
3 November 1997

Bargain buy a bonus, Jan 1994
1 January 1994

Brett's battle inspires $100,000 crusade, Dec 1993
2 December 1993

Concert tribute to a fighter, Mosman Daily 1993
31 December 1992

Steve's ready to sizzle, Mosman Daily
19 December 2007

Big night out set to sizzle, NorthSide Courier
16 December 2007

Help Steve snag record, North Shore Times
6 December 2006

Kids Like Brett Need Your Support
3 June 2004

A leap for charity, Mosman Daily
6 August 2003

Charity's new hero, Dec 2002
24 December 2002

Community Hero, Dec 2002
23 December 2002