A leap for charity, Mosman Daily
6 August 2003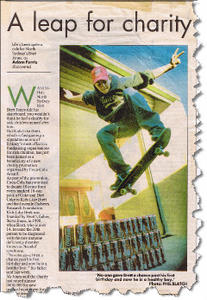 A leap for charity
Watching North Sydney teen Brett Jones ride his skateboard, you wouldn't think he had a charity for sick children named after him.
But Kids Like Brett, which is fast gaining a reputation as one of Sydney's most effective fundraising organisations for sick children, has just been named as a beneficiary of a new charity promotion organised by Coca-Cola Amatil.

As part of the promotion, Coca-Cola has promised to donate 10 cents from every marked 10 can pack of Coke and Diet Coke to Kids Like Brett and the Juvenile Diabetes Research Foundation. Kids Like Brett was founded by Brett's father, Steve Jones, in 1990 when Brett, who is now 14, became the 20th person to be diagnosed with the rare immune deficiency disorder known as Nezelof syndrome.

"No-one gave Brett a chance past his first birthday and now he is a healthy boy," his father said last week.
Mr Jones said the charity had raised almost $600,000 for new medical equipment for sick children.
"We guarantee that 100 per cent of every dollar we raise goes to buying lifesaving medical equipment for sick children."
Mr Jones said Kids Like Brett would spend the money from the Coca-Cola Amatil promotion (together with other funds raised by the charity) on medical equipment for Royal North Shore Hospital's new children's ward. Mr Jones said Coca-Cola Amatil decided to make Kids Like Brett one of the beneficiaries of its promotion after he approached them asking for a contribution.

"I contacted (them) a couple of weeks earlier seeking support for a fundraiser I was holding. They have me some promotional items to auction and I thought that was the end of it. I never expected anything like this. I just have two words to say – thank you.
Adam Ferris
Mosman Daily, 7 August 2003
---
Minor Miracle, December 1999
18 December 1999

Miracle little footballer scores is first 10 points, Dec 1999
17 December 1999

Transplant champion wins gold, Mosman Daily, November 1999
13 November 1999

Not Many Kids Like Brett, Mosman Daily, Nov 1999
7 November 1999

Giving sick kids a chance, Feb 1998
4 February 1998

It's our Father of the Year, 1998
6 January 1998

From hell and back, North Shore Times, Nov 1997
4 November 1997

Fundraiser recognised, Nov 1997
3 November 1997

Bargain buy a bonus, Jan 1994
1 January 1994

Brett's battle inspires $100,000 crusade, Dec 1993
2 December 1993

Concert tribute to a fighter, Mosman Daily 1993
31 December 1992

Steve's ready to sizzle, Mosman Daily
19 December 2007

Big night out set to sizzle, NorthSide Courier
16 December 2007

Help Steve snag record, North Shore Times
6 December 2006

Kids Like Brett Need Your Support
3 June 2004

A leap for charity, Mosman Daily
6 August 2003

Charity's new hero, Dec 2002
24 December 2002

Community Hero, Dec 2002
23 December 2002