Steve's ready to sizzle, Mosman Daily
19 December 2007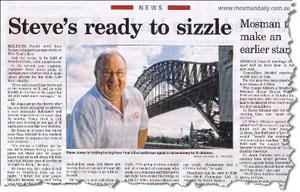 Steve's ready to sizzle
Milsons Point will host Sydney's biggest sausage sizzle on New Years Eve. And the event, to be held at Bradfield Park, is for a good cause.
In its second year running, organiser Steve Jones plans to beat last year's barbie which made about $25,000 for his Kids Like Brett charity.
"If we sell everything we've got at the moment we'll end up with $32,000 at the end of the night but we still need more sausages," he said.
Mr Jones set up the charity after his son Brett struggled to survive a rare immune deficiency and was not expected to live more than 12 months. Today Brett is still alive and kicking at the age of 18 and hopes to one day be a Wallaby.
Mr Jones in 18 years has raised more than $700,000 to buy medical equipment to improve the lives of sick children.

"It's almost a fulltime job for me, we're always trying to get the news out there and let people know that we're all about the kids and that 100 per cent of profits go straight to them", he said.

Mr Jones has sole rights to see food at Bradfield Park on the night. "I think last year people thought because you can't bring your own alcohol in, that it was an alcohol-free zone, but there are two big bars set up and it's our job to supply the snags to go with it", he said.
Mr Jones is also collecting donations from the public before the night. "I'm going to draw a name out of a bucket of everyone who sends us a donation and they get to eat right here under the bridge at a plastic table, plastic chairs and we'll give them dinner of a sausage sizzle, champagne and a chicken kebab", he said.

Donations can be sent to Kids Like Brett Campaign Ltd, 11 Ancrum St, North Sydney.
Annabel Sinclair
Mosman Daily, 20 December 2007
---
Minor Miracle, December 1999
18 December 1999

Miracle little footballer scores is first 10 points, Dec 1999
17 December 1999

Transplant champion wins gold, Mosman Daily, November 1999
13 November 1999

Not Many Kids Like Brett, Mosman Daily, Nov 1999
7 November 1999

Giving sick kids a chance, Feb 1998
4 February 1998

It's our Father of the Year, 1998
6 January 1998

From hell and back, North Shore Times, Nov 1997
4 November 1997

Fundraiser recognised, Nov 1997
3 November 1997

Bargain buy a bonus, Jan 1994
1 January 1994

Brett's battle inspires $100,000 crusade, Dec 1993
2 December 1993

Concert tribute to a fighter, Mosman Daily 1993
31 December 1992

Steve's ready to sizzle, Mosman Daily
19 December 2007

Big night out set to sizzle, NorthSide Courier
16 December 2007

Help Steve snag record, North Shore Times
6 December 2006

Kids Like Brett Need Your Support
3 June 2004

A leap for charity, Mosman Daily
6 August 2003

Charity's new hero, Dec 2002
24 December 2002

Community Hero, Dec 2002
23 December 2002