Not Many Kids Like Brett, Mosman Daily, Nov 1999
7 November 1999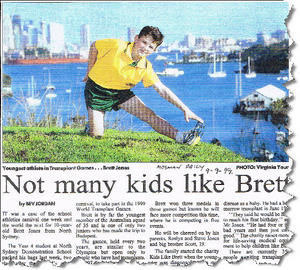 Not many kids like Brett
It was a case of the school athletics carnival one week and the world the next for the 10-year-old Brett Jones from North Sydney.
The Year 4 student at North Sydney Demonstration School packed his bags last week, two days after the school's sport carnival, to take part in the 1999 World Transplant Games.
Brett is by far the youngest member of the Australian squad of 35 and is one of only two juniors who has made the trip to Budapest.
The games, held every two years, are similar to the Olympics but open only to people who have had transplants. In 1997 Sydney was the host.
Brett won three medals in those games but knows he will face more competition this time, where he is competing in five events.
He will be cheered on by his parents, Roslyn and Steve Jones and big brother Scott, 19.
The family started the charity Kids Like Brett when the youngster was diagnosed with a rare disease as a baby. He had a bone marrow transplant in June 1999.
"They said he would be lucky to reach his first birthday," says Mr Jones. "He had four or five bad years and then just came good." The charity raises money for life-saving medical equipment to help children like Brett.
There are currently 350 people awaiting transplants in Australia.
Bev Jordan, Mosman Daily
9 September 1999
---
Minor Miracle, December 1999
18 December 1999

Miracle little footballer scores is first 10 points, Dec 1999
17 December 1999

Transplant champion wins gold, Mosman Daily, November 1999
13 November 1999

Not Many Kids Like Brett, Mosman Daily, Nov 1999
7 November 1999

Giving sick kids a chance, Feb 1998
4 February 1998

It's our Father of the Year, 1998
6 January 1998

From hell and back, North Shore Times, Nov 1997
4 November 1997

Fundraiser recognised, Nov 1997
3 November 1997

Bargain buy a bonus, Jan 1994
1 January 1994

Brett's battle inspires $100,000 crusade, Dec 1993
2 December 1993

Concert tribute to a fighter, Mosman Daily 1993
31 December 1992

Steve's ready to sizzle, Mosman Daily
19 December 2007

Big night out set to sizzle, NorthSide Courier
16 December 2007

Help Steve snag record, North Shore Times
6 December 2006

Kids Like Brett Need Your Support
3 June 2004

A leap for charity, Mosman Daily
6 August 2003

Charity's new hero, Dec 2002
24 December 2002

Community Hero, Dec 2002
23 December 2002