Help Steve snag record, North Shore Times
6 December 2006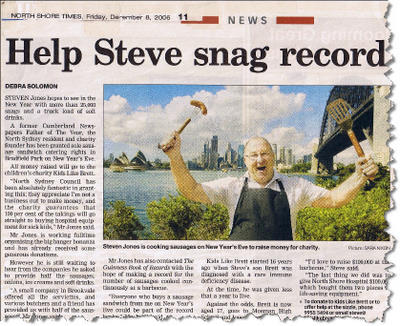 Steven Jones hopes to see in the New Year with more than 25,000 snags and a truck load of soft drinks.
A former Cumberland News papers Father of The Year, the North Sydney resident and charity founder has been granted sole sausage sandwich catering rights in Bradfield Park on New Years Eve.
All money raised will go to the children's charity Kids Like Brett.
"North Sydney Council has been absolutely fantastic in granting this; they appreciate I'm not a business out to make money, and the charity guarantees that 100 per cent of the takings will go straight to buying hospital equipment for sick kids," Mr Jones said.
Mr Jones is working full time organising the big banger bonanza and has already received some generous donations.
However he is still waiting to hear from the companies he asked to provide half the sausages, onions, ice creams and soft drinks.
"A small company in Brookvale offered all the serviettes, and various butchers and a friend has provided us with half of the sausages,"Mr Jones said.
Mr Jones has also contacted The Guinness Book of Records with the hope of making a record for the number of sausages cooked continuously at a barbeque.
"Everyone who buys a sausage sandwich from me on New Year's Eve could be part of the record books", Mr Jones said.
Kids Like Brett started 16 years ago when Steve's son Brett was diagnosed with a rare immune deficiency disease.
At the time, he was given less than a year to live.
Against the odds, Brett is now aged 17, goes to Mosman High School and loves sport.
"I'd love to raise $100,000 at the barbeque", Steve said.
"The last thing we did was to give North Shore Hospital $100,000 which bought them two pieces of life saving equipment".
Debra Solomon
North Shore Times
Friday December 8, 2006
---
Minor Miracle, December 1999
18 December 1999

Miracle little footballer scores is first 10 points, Dec 1999
17 December 1999

Transplant champion wins gold, Mosman Daily, November 1999
13 November 1999

Not Many Kids Like Brett, Mosman Daily, Nov 1999
7 November 1999

Giving sick kids a chance, Feb 1998
4 February 1998

It's our Father of the Year, 1998
6 January 1998

From hell and back, North Shore Times, Nov 1997
4 November 1997

Fundraiser recognised, Nov 1997
3 November 1997

Bargain buy a bonus, Jan 1994
1 January 1994

Brett's battle inspires $100,000 crusade, Dec 1993
2 December 1993

Concert tribute to a fighter, Mosman Daily 1993
31 December 1992

Steve's ready to sizzle, Mosman Daily
19 December 2007

Big night out set to sizzle, NorthSide Courier
16 December 2007

Help Steve snag record, North Shore Times
6 December 2006

Kids Like Brett Need Your Support
3 June 2004

A leap for charity, Mosman Daily
6 August 2003

Charity's new hero, Dec 2002
24 December 2002

Community Hero, Dec 2002
23 December 2002