It's our Father of the Year, 1998
6 January 1998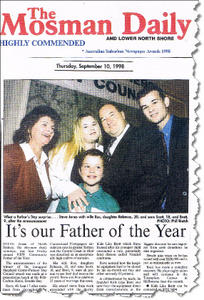 Itís our Father of the Year

Steve Jones of North Sydney, the Mosman Daily nominee, was last Friday named NSW Community Father of the Year.

The announcement of the winner of the inaugural Shepherd Centre Fathers Day Council award was made at a presentation lunch at the Ritz-Carlton Hotel, Double Bay.
Steve, 48, beat 17 other nominees from throughout the Cumberland Newspapers circulation area in greater Sydney and the Central Coast in what was described as an exceptionally high calibre of entrants.

His wife, Ros, daughter Rebecca, 20, and sons Scott, 18, and Bret, 9 were all present to see their dad receive the award. Steve and Ros celebrate 25 years of marriage this week.

His award stems from work associated with the charity Kids Like Brett which Steve formed after his youngest child contracted a rare, potentially fatal disease called Nezelof syndrome.

Steve noticed how the hospital equipment has to be shared by his six-month-old boy and other seriously ill patients.

A cabinetmaker by trade, he founded Kids Like Brett and now buys the equipment direct from manufacturers as the biggest discount he can negotiate from cash donations he also organises.

Nearly nine years on he has raised well over $200,000 and is just as enthusiastic as ever.

Brett has made a complete recover. He plays rugby union and will compete in the Transplant Games in Melbourne later this month.

Kids Like Brett can be contacted on 9955 5494.

The Mosman Daily
September 10, 1998
---
Minor Miracle, December 1999
18 December 1999

Miracle little footballer scores is first 10 points, Dec 1999
17 December 1999

Transplant champion wins gold, Mosman Daily, November 1999
13 November 1999

Not Many Kids Like Brett, Mosman Daily, Nov 1999
7 November 1999

Giving sick kids a chance, Feb 1998
4 February 1998

It's our Father of the Year, 1998
6 January 1998

From hell and back, North Shore Times, Nov 1997
4 November 1997

Fundraiser recognised, Nov 1997
3 November 1997

Bargain buy a bonus, Jan 1994
1 January 1994

Brett's battle inspires $100,000 crusade, Dec 1993
2 December 1993

Concert tribute to a fighter, Mosman Daily 1993
31 December 1992

Steve's ready to sizzle, Mosman Daily
19 December 2007

Big night out set to sizzle, NorthSide Courier
16 December 2007

Help Steve snag record, North Shore Times
6 December 2006

Kids Like Brett Need Your Support
3 June 2004

A leap for charity, Mosman Daily
6 August 2003

Charity's new hero, Dec 2002
24 December 2002

Community Hero, Dec 2002
23 December 2002