Fundraiser recognised, Nov 1997
3 November 1997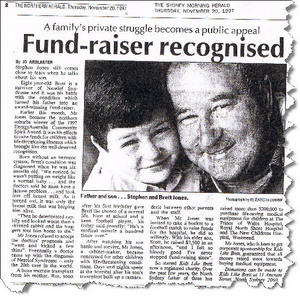 A family's private struggle becomes a public appeal
Fund-raiser recognised
Stephen Jones still comes close to tears when he talks about his son.

Eight year-old Bret is a survivor of Nezelof Syndrome and it was his battle with the condition which turned his father into an award-wining fund-raiser.

Earlier this month, Mr Jones became the northern suburbs winner of the 1997 Energy Australia Community Spirit Award. It was his efforts to raise funds for children with life-threatening illnesses which brought him the well-deserved recognition.

Born without an immune system, Brett's condition was diagnosed when he was six months old. "We noticed he wasn't putting on weight like a normal baby and the doctors said he must have a lactose problem and took him off breast milk. As it turned out, it was only the breast milk that was keeping him alive.

"Then he deteriorated rapidly and looked worse than a skinned rabbit and the buggers sent him home to die."

Mr Jones refused to accept the doctors' prognosis and "went and kicked a few shins". Eventually a doctor came up with the diagnosis of Nezelof Syndrome-only the 20th case in the world.

A bone marrow transplant from his mother, Ros, soon after his first birthday, gave Brett the chance of a normal life. Now at school and a keen football player, his father said proudly: "He's a medical miracle a hundred times over."

After watching his son battle and survive, Mr Jones, a cabinet maker, became concerned for other children with life-threatening conditions. Days and nights spent at the hospital after his son's transplant built up a camaraderie between other parents and the staff.

When Mr Jones was invited to take a bucket to a football match to raise funds for the hospital, he did so willingly. With his elder son, Scott, he raised $2,500 in an afternoon, "and I felt so bloody good I've never stopped fund-raising since".

So started "Kids Like Brett" now a registered charity. Over the past few years, the North Sydney father of three has raised more than $200,000 to purchase life-saving medical equipment for children at The Prince of Wales Hospital, Royal North Shore Hospital and The New Children's Hospital, Westmead.

Mr Jones, who is keen to get corporate sponsorship for Kids Like Brett, guaranteed that all money raised went towards buying medical equipment.

Donations can be made to Kids Like Brett at 11 Ancrum Street, North Sydney, NSW, 2060.

By Jo Arblaster
---
Minor Miracle, December 1999
18 December 1999

Miracle little footballer scores is first 10 points, Dec 1999
17 December 1999

Transplant champion wins gold, Mosman Daily, November 1999
13 November 1999

Not Many Kids Like Brett, Mosman Daily, Nov 1999
7 November 1999

Giving sick kids a chance, Feb 1998
4 February 1998

It's our Father of the Year, 1998
6 January 1998

From hell and back, North Shore Times, Nov 1997
4 November 1997

Fundraiser recognised, Nov 1997
3 November 1997

Bargain buy a bonus, Jan 1994
1 January 1994

Brett's battle inspires $100,000 crusade, Dec 1993
2 December 1993

Concert tribute to a fighter, Mosman Daily 1993
31 December 1992

Steve's ready to sizzle, Mosman Daily
19 December 2007

Big night out set to sizzle, NorthSide Courier
16 December 2007

Help Steve snag record, North Shore Times
6 December 2006

Kids Like Brett Need Your Support
3 June 2004

A leap for charity, Mosman Daily
6 August 2003

Charity's new hero, Dec 2002
24 December 2002

Community Hero, Dec 2002
23 December 2002