Kids Like Brett Need Your Support
3 June 2004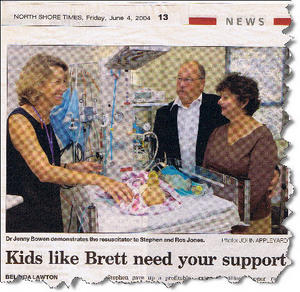 A life threatening illness that devastated a young family has ended up benefiting hundreds of sick kids.
When Roslyn and Stephen Jones' third child, Brett, was diagnosed with the rare immune deficiency Nezelof Syndrome, they were devastated.
As only the 20th case in the world, the prognosis for baby Brett wasn't good.
After a year of living in hospital watching their tiny baby struggle through chemotherapy and bone marrow transplants, the couple were inspired to set up Kids Like Brett – a charity especially for equipment for children in hospitals.
Stephen gave up a profitable cabinet-making business to devote more time to the charity, which has raised $600,000 in the past 14 years with the help of Brave Communication and Lilyfield Printing.
Last week, Royal North Shore Hospital, invited the couple to see the $100,000 in new equipment their hard work has seen installed in the newborn care unit.
"I saw a little baby, 400 grams and our machine was supporting it and keeping it alive", Mr Jones said.
"I hoped nobody noticed but I had tears in my eyes".
"We are one of the only charities that gives 100 per cent of every dollar we receive".
Mr Jones said their aim is to raise $1 million, sooner rather than later.
The equipment is used in the intensive care section of the nursery where the hospital's tiniest patients are on the full life support.
The newborn care centre cares for about 450 babies each year.
All have either been born prematurely or unwell and require specialist care before going home.
Infants are flown in from around the State to Royal North Shore Hospital.
Brett has since made a full recovery and along with siblings Rebecca and Scott is fully supportive of his parent's efforts.
Belinda Lawton for
North Shore Times
Friday June 4, 2004

---
Minor Miracle, December 1999
18 December 1999

Miracle little footballer scores is first 10 points, Dec 1999
17 December 1999

Transplant champion wins gold, Mosman Daily, November 1999
13 November 1999

Not Many Kids Like Brett, Mosman Daily, Nov 1999
7 November 1999

Giving sick kids a chance, Feb 1998
4 February 1998

It's our Father of the Year, 1998
6 January 1998

From hell and back, North Shore Times, Nov 1997
4 November 1997

Fundraiser recognised, Nov 1997
3 November 1997

Bargain buy a bonus, Jan 1994
1 January 1994

Brett's battle inspires $100,000 crusade, Dec 1993
2 December 1993

Concert tribute to a fighter, Mosman Daily 1993
31 December 1992

Steve's ready to sizzle, Mosman Daily
19 December 2007

Big night out set to sizzle, NorthSide Courier
16 December 2007

Help Steve snag record, North Shore Times
6 December 2006

Kids Like Brett Need Your Support
3 June 2004

A leap for charity, Mosman Daily
6 August 2003

Charity's new hero, Dec 2002
24 December 2002

Community Hero, Dec 2002
23 December 2002